I've been to the city of lights and love a handful of times both for work and for fun and it's somewhere I can keep going back to. After staying with the Hyatt group in Mallorca earlier this year, I was excited to stay with them again, this time in one of my favourite cities, Paris.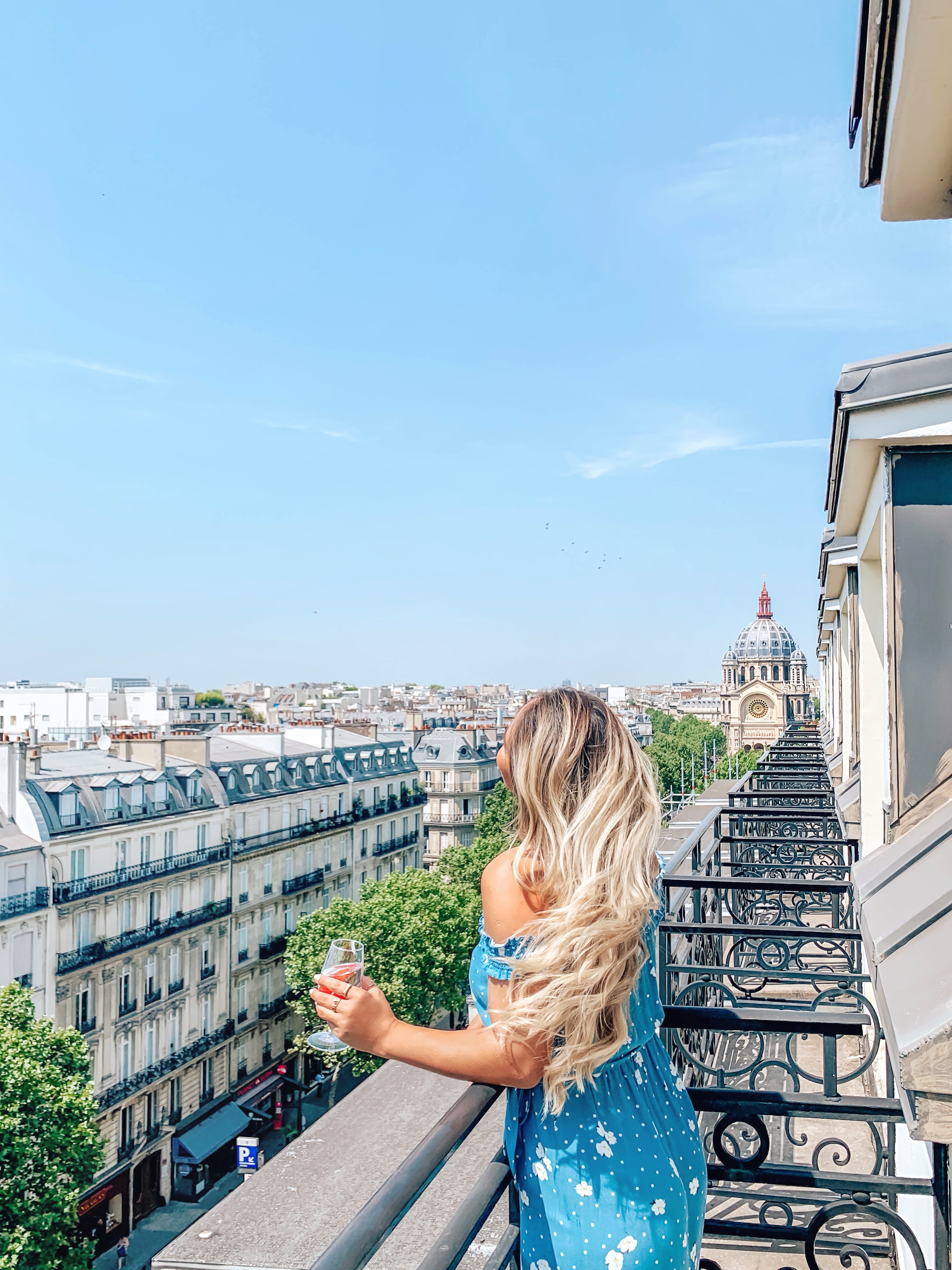 The Hotel
Situated in the 8th arrondissement in Central Paris, Hyatt Paris Madeleine is a five-star hotel with a chic, boutique feel. Located on Boulevard Malesherbes, it's a great spot to be based from on your trip to Paris, within walking distance to many landmarks, shops and restaurants.
Madeleine is the historic heart of the city and you can easily walk to the Louvre, Champs-Élysées and the Paris Opera House in just 10-15 minutes.
Upon arrival, we were greeted with smiles and offered tea/coffee while we waited for our room to be ready. The lovely, Anna showed us around the property and after noticing a garden above La Chinoiserie's glass roof, we were told about their dedicated outdoor space host to honey-producing beehives that the chef uses in his dishes and desserts. She kindly gifted us a pot of their homemade honey to take home. How sweet!
The Room
To our surprise, we were upgraded to the beautiful Eiffel Tower Suite, which of course has a view of the iconic symbol of Paris. What an absolute treat! A welcome platter of fresh berries and macarons with a handwritten note sat on the desk and hanging on the bedhead was a string of rose gold hashtag balloons.
I find Hyatt always goes above and beyond to make guests feel welcome.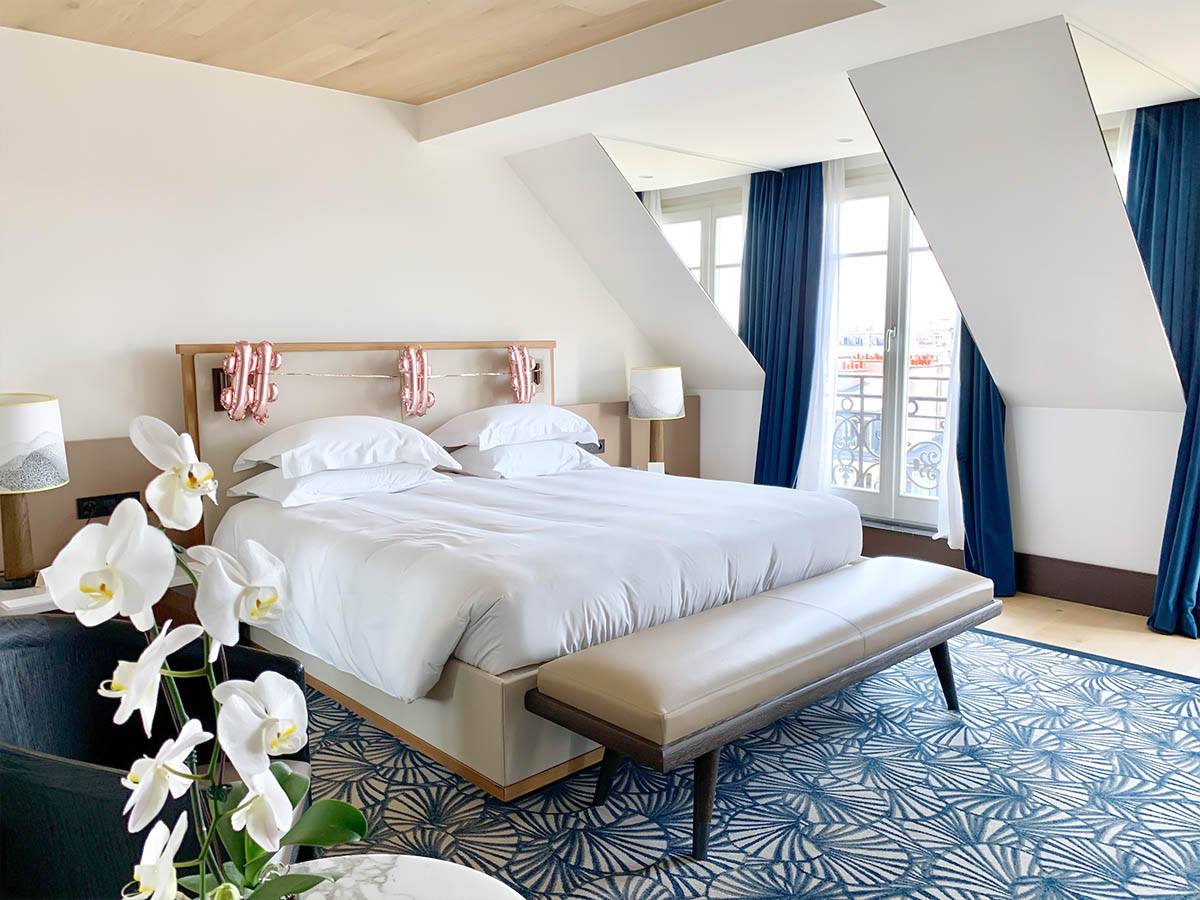 The suite features a living room, marble-clad bathroom and a walk-in wardrobe. The spacious bedroom has a very comfortable king-size bed, with floor to ceiling windows leading out to the three balconies. Our light-filled room was located on the seventh floor, which has its own dedicated elevator.
All the amenities you need are in the room such as a hairdryer, iron, slippers, bathrobes and toiletries. There's also a Nespresso machine and fully stocked mini-bar with plenty of drinks and snacks in case you get peckish.
The bathroom has a bathtub and shower that looks out onto the Parisian rooftops and the Eiffel Tower. What a place to have a soak and enjoy the view!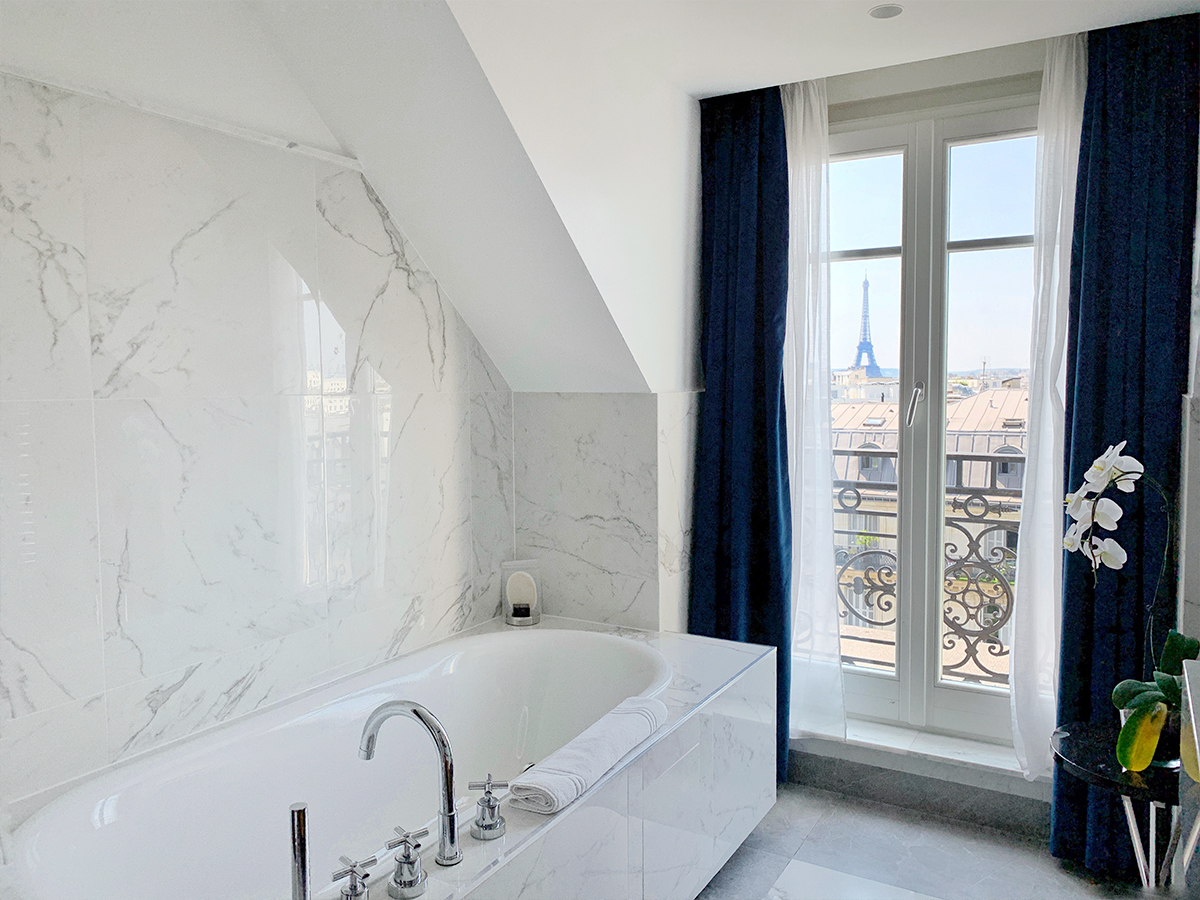 #Lefrenchbreakfast
Breakfast is served in Café M on the ground floor with views of Boulevard Malesherbes. The famous architect Pascal Desprez redecorated the sleek space.
You get a choice of hot item from the menu alongside the buffet breakfast. There are plenty of options like cold cuts, cheese, cereals, fresh fruit and pastries.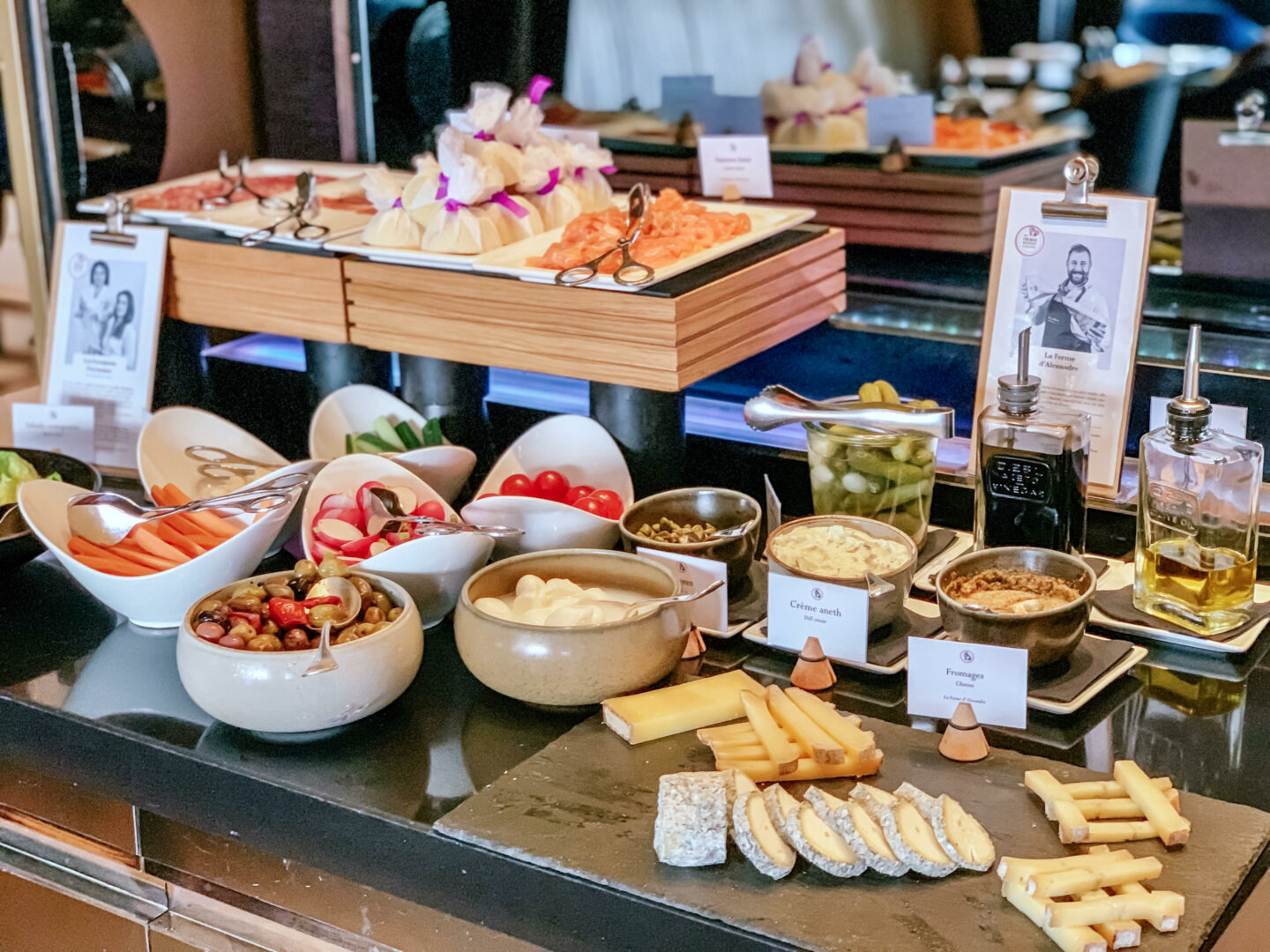 Exploring the Neighbourhood
Hyatt Paris Madeleine is within walking distance to a view of my favourite places. Mariage Frères for tea and lunch spot, La Maison de la Truffe for all things truffle. As well at the iconic Rue Cambon where the original Chanel flagship store is located.
I love that Paris is such a walkable city; we averaged around 20,000 steps every day, during a heatwave where the temperatures rose to over 40 degrees in the city! The metro is only a 5-minute walk away, so you really have no excuse to not explore what Paris has to offer.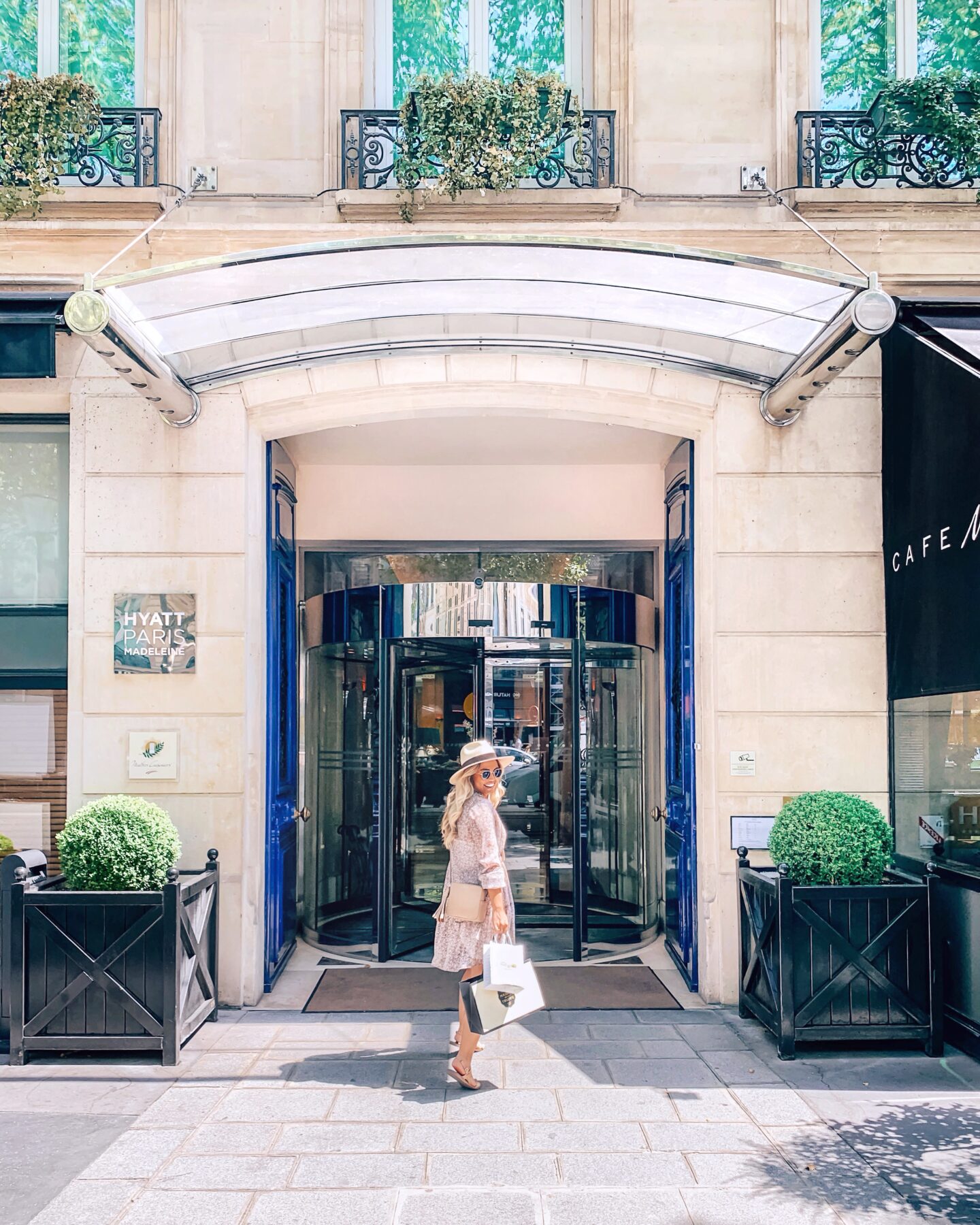 A special thank you to Hyatt Paris Madeleine for hosting us and making us feel so welcome.
Click on the pink pins for address.